Portfolio Categories Short Films - Archive
(ADM Tea Party 2015)
For as long as we could remember, the world was good.
We blossomed in it's warm embrace.
The land treated us well and we repaid in kind.
It was a time of peace. Prosperity.
But greed and power led men astray.
And our time of peace came to an end.
Through our own destruction, we ushered in a new age of progress and technology.
As the world felt the depth of our hunger, it began to fight back.
Chaos spread like wildfire, and our will to live was tested.
Little by little we fought back.
We recruited the best minds. We built a sanctuary. And we found a way to survive.
For those of you out there, lost in the dark recesses of the
world. Come to us. Join us. We are EVE. And Welcome To ADaM.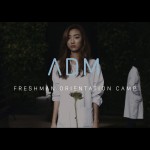 Directed, Edited by Nelsontyc.
Nanyang Technological University, School of Art, Design & Media Freshmen Orientation Camp 2014.
Story:
I am not who you think I am, I am Zhing the second son of the 8th emperor of Zena!
Ziana and I fell in love at first sight but my father brought her here to get married to my bastard brother Zhang, to strengthen his claim for the throne. We eloped to the borders, causing uproar in the imperial court. My father sent Zhang to bring us back. The guards took Ziana away and Zhang confronted me.
Zhang wanted me to give her up, but how can I? She is my life, my everything. Then he said something unforgivable. My blood boiled. But Zhang was always the stronger one…
The next few years of my life was a blur… Zhang became the emperor while I am barely surviving. Surprisingly the country prospered under him. Ziana married Zhang and shattered all my dreams. All the scriptures that the monk taught me could not quell my anger. He will not be forgiven. I must have my revenge!
Using my old contacts, I found a way to meet Ziana. Her reaction was priceless. Zhang told her that I was slayed by the barbarians from the borders. It's a fucking lie! I will show the world that I should be the one sitting on the throne!
There are 2 phases to our plan, to intoxicate his mind and poison his name. Ziana was to get the concubines to distract the emperor and feed him with lust inducing drugs.  These drugs give him frequent headaches and bad tempers. Next she was to bribe the officials and plant the seeds of corruption. The people suffered and changed their opinion of the emperor. At the same time I gathered my old contacts and made new allies to form 8 rebel groups. After changing my identity, my monk brothers and I formed the last group. Zhang panicked and gathered more troops to curb the rebellion. Everything went according to plan and we infiltrated the palace.
Zhang paranoia proved to be a nuisance, but that did not stop me! NOTHING COULD STOP ME FROM TAKING MY THRONE!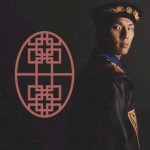 Filmed and edited by NELSONTYC.
The Red Coup
800BC, Northern Zena.
The 8th Emperor of Zena had three sons, Zhang, Zhing and Zheng. They lived happily until Ziana, a beautiful princess from a neighboring country came to live with the imperial family. All three sons fell in love at first sight, but it was the second son, Zhing, that won the heart of the princess. They thought that they would be together forever…
JOIN ADM FOC 2014 to see what happens.
Report to ADM lobby on 13 July 2014, 1800hrs.
Victory will be ours by 18 July 2014
Emperor's Summons :
Filthy rebels are at our borders
Massive troops are needed for defence
Brave warriors from all villages
Heed our Emperor's mighty command
With united spirit, we will prevail!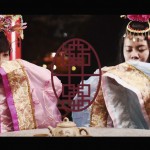 Directed by nelsontyc
NTU ADM DF3009 – Film Directing
EXT. BUS STOP – DAY
你知道我们的校车几时才会来吗?
Do you know what time the
school bus gets here?
GIRL
不知道
No.
GUY
这是时间表?
Is that a timetable?
No answer.
GUY
巴士的时间表?
bus timetable?
GIRL closes the timetable and turns away.
GUY
这看起来像是巴士的时间表,所以我才
会这样的问。 我想借来看一下,可以
吗?
It looked like a bus
timetable. That's why I
asked. I'd like to borrow it
for a second.
GIRL waits a beat then hands GUY the schedule. GUY
reads it for a beat.
GUY
啊!完蛋了!
Oh my God! Damn!
GIRL
什么事?
What?
GUY
到下个星期四这里都没有巴士。
No bus till next Thursday.
GIRL
什么? 还给我!
What? Gimme that!
GIRL snatches the timetable back and starts to read.
then suddenly stops.
GIRL
好笑。 很好笑。
Funny . . . very funny.
GUY
那是两天前的事。 我们有时间可以喝
咖啡,或者晚餐,还是早餐?
That's two days away . . .
we have time for some
coffee, maybe dinner . . .
Breakfast?
GIRL
OK, 我放弃。 我的巴士多两分钟就要
来了。 要的话,我们还是找一些比较不
私密的谈话来谈吧。哦,我先 开始。
Ok, I give up. The bus will
be here in two minutes.
Let's try to have an
innocuous conversation
without getting cute or
personal, I will start off.
GIRL
今天的天气还不错。还是不说这个。你
最近看了什么电影吗?不,这太过深奥
了,而且有可能会让我知道太多你的
事。让我想一下,体育运动?可是我也
不懂体育可 以讲什么。
Nice weather we're having..
No cancel that. Have you
seen any good movies lately?
No. That can get deep and
philosophical, and
revealing. Let me think.
What about sports? No, I
can't talk about sports.
GIRL (BREATH)
我想到了!周杰伦!我们就说关于周杰
伦的东西。 你先开始。
I got it! How about Jay
Chou? Let's talk about Jay
Chou. You start.
GUY is still bug-eyed at the speech.
GIRL
你有听过周杰伦吗?
You've heard of Jay Chou..
GUY
有。
Yes.
GIRL
歌手周杰伦。
The singer Jay Chou.
GUY
周杰伦也是演员。
Or actor.
GIRL
两个都是。
Either one.
A very long pause. GUY starts singing Jay Chou song,
GIRL looks at GUY.
GUY
我。。 我其实只是想要借一下你的时间
表。 我并没有其他的意思。
I.. I just wanted to borrow
your timetable. I didn't
mean anything else.
GIRL
好。
Sure.
GUY
我是说真的。
I mean it.. Honest.
GIRL
对。可能是我的反应太大了。我的心情
有一点不好。 我最近的一个考试考了
不及格。
Ok. I may have overreacted.
I'm a little edgy. I just
failed my exam.
GUY
太好笑了。 我也是。
That's funny. I did too.
GIRL
我没骗你。
No kidding.
The bus comes and they stand there. The bus leaves.
GIRL
你现在害到我赶不上我的巴士。
Now you've made me miss my
bus.
GUY
那也是我的巴士。
It was my bus too.
GIRL
我们还是走路吧。
We could walk.
GIRL takes a step and stops when GUY doesn't follow.
GIRL
好啦,走吧。
Well.. come on.
GUY
我有事请想要跟你讲。
I have to tell you
something.
GIRL
说吧。
Go on.
GUY
我刚才会说我的考试会不及格,其实是
骗你的。我根本就没有任何考试。
I just said I failed my exam
because you said you failed
yours. I didn't took any
exams.
GIRL smiles.
GIRL
我也是。我说我的考试会不及格也只是
个借口罢了。
Neither do I. I just said I
failed my exam as an excuse.
GIRL nods a come-along and walks off. GUY follows.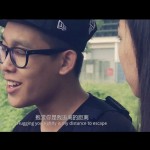 "There Once Was a Girl"
Singapore Original Short Film 2012
Directed, Screenplay by nelsontyc & Eugene Tan
Camera, Edited by nelsontyc
Voice Over by Eugene Tan
Sound design by nelsontyc
Actress: Chanel Han
Production Crew: nelsontyc, Eugene Tan, Peh Yi Chen
Special thanks to Mr Loo Zihan
6 Hours of filming, 1 Day of editing.
"The story in its current form tells of a young girl full of hope towards the future. She has a dream to meet her prince charming and live happily together in a house on a hill. But her lover; a young, hot blooded man full of vigour, goes around spreading his seed recklessly. Soon he gets tired of this girl and dumps her. She is devastated. People around keep saying to her, let go, move on. However after much emotional struggle she fails to see why she should be the one suffering alone. She decides on a way to hold on to him forever… "
AAA287 Digital Media and Visual Arts: The Moving Image
Nanyang Technological University
A project for a video making module in Singapore Polytechnic. First assignment. From School of media and information technology. digital media
Done and produced by nelsontyc during 2006.